Annie, Spain
Animals: three dogs (Weimaraner and Spanish waterdog)
What can I say about Arend and Meike? Very simply, they are 5* house sitters! They coped with every difficulty our lives, and animals threw at them : dead cat, a dog fight, power cuts, appliances failing……..usual chaos but dealt with efficiently and calmly, all problems resolved. Arend loves any mechanical challenge so all broken appliances were soon mended. Meike loves cooking and enjoyed the fully equipped kitchen, making wonderful, healthy NON-sugar goodies for our return.
They came originally to sit for a week. My 3 complicated rescue dogs (with associated issues) loved them from the first moment. We felt so confident that we asked them to stay on and took the opportunity to have our first, proper holiday for 6 years. Then, when my husband had a cancer scare, they drove all the way back from Portugal to take the reins again in case of emergency – my wonderful angels.
I cannot recommend Arend and Meike too highly; their calm demeanour makes them excellent pet sitters and their ability to cope with "disasters" also qualifies them as wonderful house sitters.
If you would like to contact me personally please use my email: <email available on request> in the first instance.
---
Jodie, Portugal
What an amazing couple!!
They have cared for my house for the past 9 months and they have been absolutely incredible. They have looked after the house in exactly the same way that I do. Nothing has been any trouble for them and I have felt completely confident that the house is in safe hands. They are a really intelligent and lovely couple who are very capable of dealing with anything. I cannot recommend them highly enough to anyone who is looking for someone to take care of their house, totally fantastic people!
---
Taffy, Spain
Animals: dog, horse, three cats
Meike and Arend housesat for us for six weeks in September. We have a varied menagre of animals from a Spaniel with tummy troubles, a stroppy horse and 3 warring cats. They coped very well with all those demands, and Meike even re-educated my horse in some essential manners. Seamus our dog loved them and their little dog, Daisy. This is important for us as 6 weeks apart is a long time.
They both coped with the demands of living off-grid in the Campo, with a variable water supply. Our house was beautifully clean and neat and cared for. Our neighbors have a high regard for them as well.
We can highly recommend Arend and Meike for house and animal sitting.
<email available on request>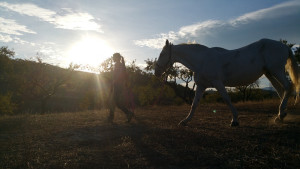 ---
Janneke, Portugal
Animals: two goats and five dogs (of which three rescue dogs with issues)
I was a bit sceptical about having house sitters, especially after a bad experience. Meike and Arend arrived at 6 pm and while having diner I quickly felt comfortable with them. The next morning we talked some things through, so we both knew what to expect. I was surprised they were ready for work at 10 in the morning. Arend helped me repairing the gate and Meike started to clean up the garage. They both worked hard. I was totally confident to leave for holiday. They have been taking care of my animals (2 goats, 5 dogs of which three rescue dogs with issues) excellently. When I came back they had made a vegetable garden and my horse trailer was repaired. If they want to come back next year, they are very welcome.
(Translated from Dutch)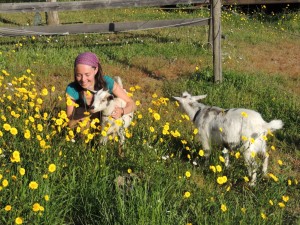 Meike with the baby goats
---
Mark Wilkins, France
Animals: two dogs, two cats, chickens, ducks and fish
Dependable, adaptable, capable, calm, independent and above all considerate – Arend & Meike are everything you need in a great house-sitting team. They answered our call, when others had let us down, and were able to rush to our side. We and our precious pets felt immediately comfortable in their presence and a week later, on our return home, everyone was happy and our house was clean and in order. We would definitely recommended Arend and Meike for other house and pet sitting assignments.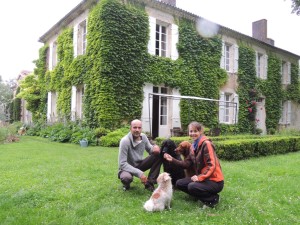 ---
Koosje, The Netherlands
Animals: Koi carps, rabbits, chickens and ducks
Arend en Meike have been house sitting for three weeks. They took care of our house, garden, koi carps, rabbits, chickens and ducks. We highly recommend Arend and Meike for house sitters. They are very friendly and gave us a comfortable feeling, so we could go on holiday with confidencee. We have been confirmed in our confidence. They care a lot about the health and wellfare of the animals. The garden was neatly maintained and the house was clean and tidy when we came back.
(Translated from Dutch)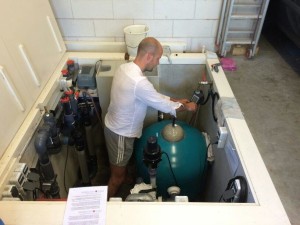 Arend with the filtering system of the koi carps
---
Annelot, The Netherlands
Animals: dog (Jack Russel Terrier), cat, two Icelandic horses
Meike en Arend have been house sitting several times, they took care of the animals with lots of love. The dogswas happy when they arrived and loved cuddling with them. My cat was very shy in the beginning, but in the end they are best of friends. I could feel my two Icelandic horses being calm and happy with both Arend and Meike
Leaving the house was no problem with them being around, and it was lovely to come home. A clean house, a cup of tea ready and sometimes Meike baked a nice cake to welcome me home.
(Translated from Dutch)
---
Jan, The Netherlands
Animals: five horses, two dogs (German Shepherds), chickens, fish
I left my house and animals to Arend and Meike in the summer of 2013. I was very content with them. The animals were taken care of very well, they even went to the vet with one of the dogs and administered medication in her ear. The house was clean when I came back,
I highly recommend them for house sitting for your house and animals, and I would love to have them more often as house sitters.
(Translated from Dutch)